Our Fellowship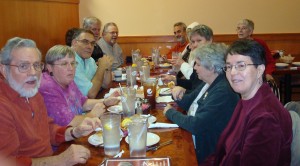 Love is the spirit of this Fellowship, and service is our law.
This is our great covenant: to dwell together in peace, to seek truth in love,
and to help one another.
Our affirmation and covenant
Who We Are
We are a small Fellowship of good people who work at maintaining open minds and loving hearts.
Some of us are lifelong Unitarian Universalists; others are former Baptists, Catholics, Lutherans, and
Methodists. Some of us don't identify ourselves with any religious label. We are politically liberal
and conservative, gay and straight, partnered and single . . . and lots in between. What we share is a
belief in the spiritual journey and a desire for a supportive spiritual community in which we feel valued
for who we are.
The Unitarian Universalist Fellowship of West Plains was founded in the mid-2000s by a small group of people
seeking a liberal church, a place of sanctuary and inspiration to connect them to each other and to their
higher selves. They wanted a church that accepted different spiritual paths, honored the inherent worth
of all persons, and encouraged exploring the meaning of life and the role of ethics in their lives.
In January 2006, after a series of exploratory meetings, the group held its first public meetings. In spring
2007, they affiliated with the Unitarian Universalist Association of Congregations (UUA). In 2010, the Fellowship
joined the Church of the Larger Fellowship (CLF), an online congregation of Unitarian Universalists whose
mission is to provide a ministry to isolated religious liberals. Both the UUA and the CLF provide religious education
materials to help congregations develop programs for a variety of audiences such as children and young adults.
What We Do
Our activities fall into three categories: formal services, charitable activities, and informal gatherings.
Formal services encourage us to explore our religious ideas and philosophy. Our services provide
a ritualized structure that challenges us to think more deeply about what we believe and why and to
continually search for Truth.
Charitable activities support and contribute to the community. As part of our commitment to be good
citizens, we have adopted a portion of Jefferson Street; and we regularly pick up trash to keep it clean.
Each month, we take up a special collection to support a variety of local charitable groups such as Samaritan
Outreach, Court Appointed Special Advocates (CASA), the community garden, and the West Plains Regional
Animal Shelter. At Christmas, we "adopt" a family in need and buy gifts for the children. In special
circumstances, we donate to causes outside the local community, such as the Joplin tornado relief effort.
Informal gatherings help us develop friendships with people who share similar values. We occasionally get
together for activities such as events by local artists and musicians or float trips down Ozarks rivers. These social
activities help us get to know one another better.